The free world is threatened by a tyrannical empire looking to unite the stars under a single voice. The Sayari System is under invasion, and the Colorsky Star Force (CSF), a joint military alliance is fighting to defend the capital from being grasped by the mighty Dekenzia Major Allegiance (DMA). In the middle of this conflict is Rushaug, an elite soldier operating behind enemy lines, gathering critical information, all while sabotaging the enemy from the inside. His accomplishments does not go unnoticed, and he is quickly building a reputation after he defeats DMA's greatest operative; Ridley Wesker. The DMA is determined to stop the threat, prompting Zargasso to dispatch additional forces to hunt down and eliminate Rushaug. Unknownly, Rushaug is about to meet his equal; Red Nuke.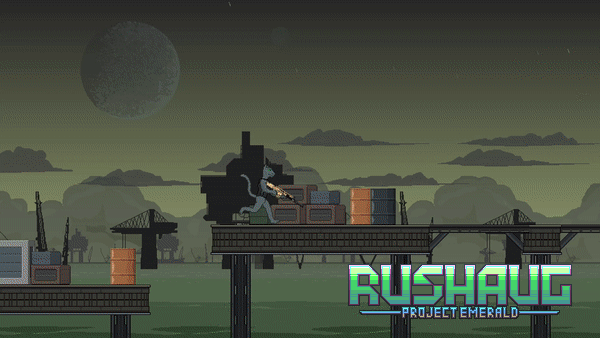 Suspicious activity has been observed on the cold planet Snotikia. Why is the enemy conducting missile tests on a foreign planet? Rushaug is sent to investigate.
https://itch.io/embed/651385?bg_color=475863&fg_color=c8c2ac&link_color=18cb93
My main and most ambitious project at this time. It will be the pioneer of a franchise telling the story of Rushaug, a fictional character who I made up at very young age, and has followed me since. In a galaxy threatened by totalitarian dictatorship, he is the key in turning the tides into the favor of democracy and independence.
A demo is now public! Play through the first mission to get the feel of the game, and optionally provide feedback to support the development!
Click here to download the latest build on the game's Game Jolt page!
You can follow Rushaug: Project Emerald on Facebook, Twitter, and Instagram.
Follow the DEVLOG here.
Rushaug in Public Media:
https://www.kode24.no/koden-bak/derfor-lager-han-rushaug-i-fusion-25/71148566